Service Areas
Happy Today, Or You Don't Pay!

Global Cooling Service Areas
As our world becomes more advanced with technology, we reap the benefits in several ways. One significant way is through our robust heating and cooling systems. We've gotten to a point where our HVAC systems are such an integral aspect of our home that it's hard to imagine life without them.
And why would we want to? A proper heating and cooling system keeps us comfortable and safe from dangerous temperatures. It also improves our indoor air quality.
If you're a homeowner, it's more important than ever to equip your home with the most advanced, robust HVAC system possible. 
No matter where you're located, Global Cooling is here to help.  Servicing our customers at all times of the day!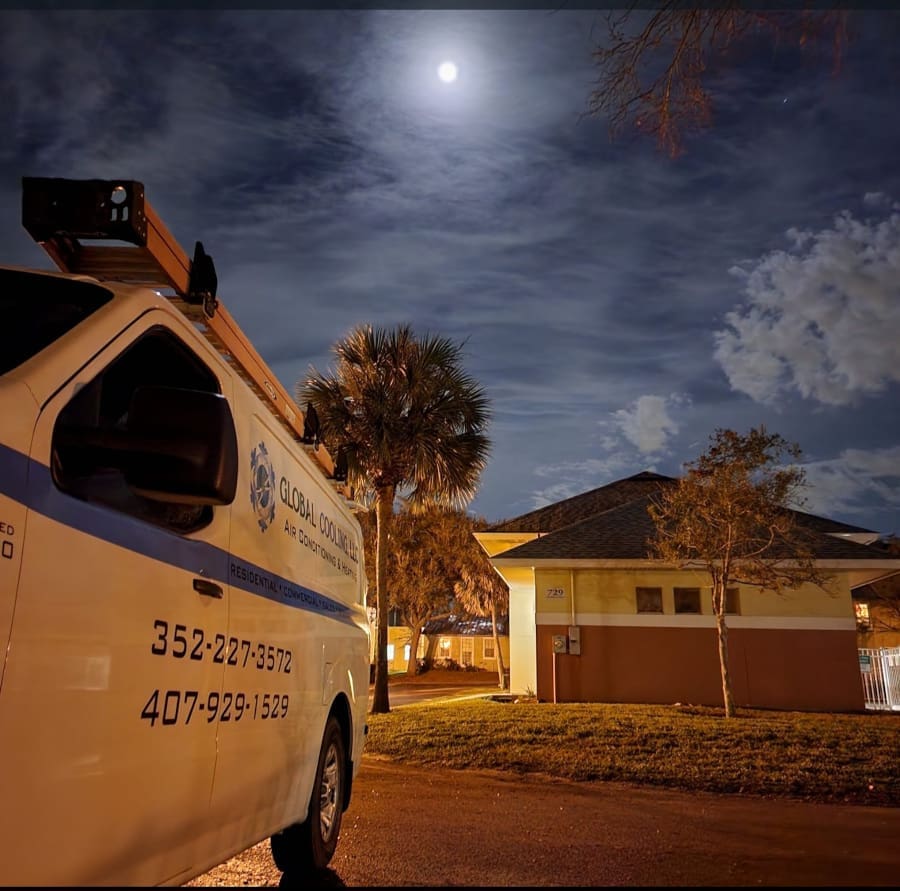 Experience our in-house "Happy today, or You Don't Pay" guarantee! Call our Clermont AC repair experts at (352) 227-3572.
Areas We Service :
Our HVAC Services
We deliver a comprehensive array of heating and cooling services, which allows us to fix any problem you encounter.
From mini split installations to furnace repairs to installing a new HVAC system, our award-winning services are available to help.
Air Conditioner and Heater Repairs
When you need HVAC services and AC repairs, you need them fast. If your heater or air conditioner breaks down and requires repairs, call our team for quick, effective help in your service area.
Most of the time, it's pretty easy to determine when you need repairs. You turn on your heater or air conditioner and realize that it's not blowing out the right temperature — or any air at all!
But sometimes, our HVAC systems can be a little more subtle when they need some help.
Here are some telltale signs that indicate you should reach out for heater and air conditioner repairs.
Your AC or Heater is making loud, disruptive noises

You notice too much humidity in your home

You notice a strange smell coming from your HVAC unit

You see an increase in energy bills
These signs could mean it's time to call Global Cooling for the best AC repairs in your service area.
Air Conditioner and Heater Maintenance
Air conditioner and heater maintenances are essential for your HVAC system's overall health and performance. When you schedule regular maintenance, you help your air conditioner and heating system work their best while also reducing the chances of breaking down.
When you enhance your HVAC system's performance, you'll also improve your indoor air quality and boost your confidence in your heating and cooling systems. Schedule an appointment today!
Air Conditioning and Heater Installations
No one should suffer in hot or cold temperatures. When you need to replace your HVAC system with a new air conditioning installation, you should never delay.
Our team of expert, experienced technicians can install a new system within one business day.
Stressed about finding a suitable model? We can help with that, too. Call our HVAC service company today to chat about your needs, budget, and preferences. We'll find a system that works for you and your home.
Schedule a Consultation in Your ​​Service Area
With frequent deals and discounts, a roster of satisfied customers, and a team of expert professionals, we're the best technicians in the area for heating and air conditioning services.
Call Global Cooling today to speak with a team member in your service area!