HVAC Repair
Happy Today, Or You Don't Pay!

Professional HVAC Repair in Clermont, FL
Here at Global Cooling, we specialize in providing top-notch HVAC repair in Clermont, FL. We understand how essential a working HVAC system is to you and your family, and your comfort is our priority. We have a team of technicians that will keep working until your HVAC system works as it should. Your HVAC system is an important part of your home. It would be difficult to live without it, and you shouldn't have to. 
We offer reliable HVAC repairs when you need them most. Our team of experts will do everything they can to get your HVAC system in working order again. We won't rush the job because we value quality over quantity.
If you would like to schedule your local HVAC repair service in Clermont, FL, call Global Cooling at (352) 269-8191 or contact us online. We are here to help!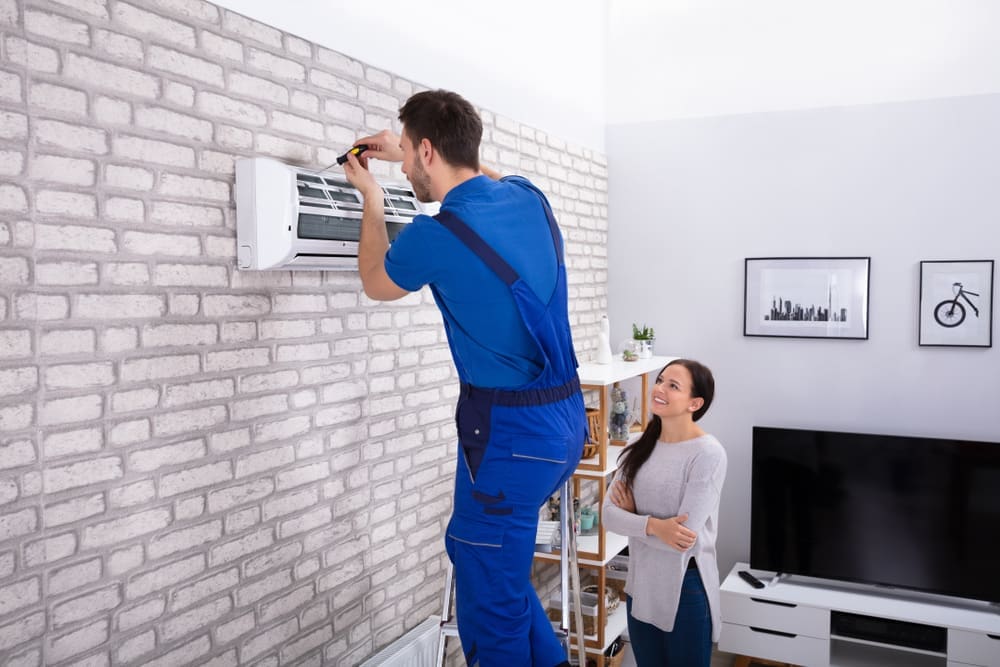 Our Clermont HVAC Repair Services
At Global Cooling, we offer a range of HVAC repair services for every type of building in Clermont and the surrounding area. You can count on us to keep your office and home comfortable.
Residential HVAC Repair
Your home is your sanctuary. We want to help you keep it that way by ensuring your HVAC system is always in working order. Whether you need replacement parts or a refrigerant refill, there is nothing our team of experts can't handle. If your home is not as comfortable as it should be, contact Global Cooling, and we will fix it in no time.
Commercial HVAC Repair
Your business is your baby, and we understand that. Your employees need a comfortable temperature to work in. If the building is too hot or too cold, their productivity and job satisfaction will suffer. Your clients will also enjoy coming to a building that's cool in summer and toasty in winter. For all your commercial HVAC repair services, contact us. We will keep your building at the correct temperature while you run your business.
Emergency HVAC Repair
Your HVAC unit may break down on a weekend or during the night. These things often happen outside of regular business hours. Unlike many HVAC companies, we offer emergency HVAC repair to keep your home or business at the perfect temperature day and night. Our technicians will get to you as soon as possible so that you don't have to live without your HVAC unit for too long. You can count on us to come through when you need us most.
Typical Signs You Need HVAC Repair Services
Of course, you know your HVAC unit is not working when it won't turn on. However, here are some other signs to look out for:
Increased utility bills

Uneven heating or cooling

Faulty thermostat

Poor indoor air quality

Strange noises

Foul odors
Types of HVAC Repair in Clermont
Our team of technicians has experience with all kinds of HVAC systems. No matter the brand, size, or type, they will ensure it gets the service it needs. They can repair any system with ease. If repairs are not possible, they will recommend a suitable and cost-effective replacement.
Furnaces
Furnaces are tricky and require an expert when they break down, especially if it is a gas-powered furnace. If your furnace has been using more energy or does not heat your home evenly, contact us, and we will send our skilled technicians to provide a solution. 
Heat Pumps 
Heat pumps heat and cool your building, which means they work all year round. If your heat pump won't turn on or uses too much electricity, get in touch with us as soon as possible. Your heat pump will be in tip-top shape in no time.
Central or Ductless Air Conditioners
Whether you have a central AC unit or a ductless mini split, our technicians know the ins and outs of any AC system. If your AC unit is leaking or blowing out warm air, do not hesitate to call us. We will get to your home or business as soon as we can so that you can enjoy your cool air once again. 
An HVAC Repair Company You Can Trust
As you can see, there is no HVAC job we can't handle at Global Cooling. Our technicians are thoroughly trained, so they can provide a solution for any problem. They are friendly and will respect your home, time, and money. If you are searching for a local HVAC repair company in Clermont, FL, your search is over.
If you need more information on HVAC repairs, contact Global Cooling online or call us at (352) 269-8191 to schedule an appointment.