HVAC Installation
Happy Today, Or You Don't Pay!

HVAC Installation in Clermont, FL
Opting for a new HVAC installation in Clermont, FL, is no small decision. A new HVAC unit is a long-term investment that requires sufficient information. When you install an HVAC system, you ensure your family can enjoy a comfortable home all year round. In addition to keeping your home at the perfect temperature, an HVAC system also adds value to your home and maintains indoor air quality. 
Whether you need to replace your HVAC system or install a whole new HVAC unit, you can count on Global Cooling to guide you through the process. We have a team of experts who will provide you with all the information you need to make the right decision.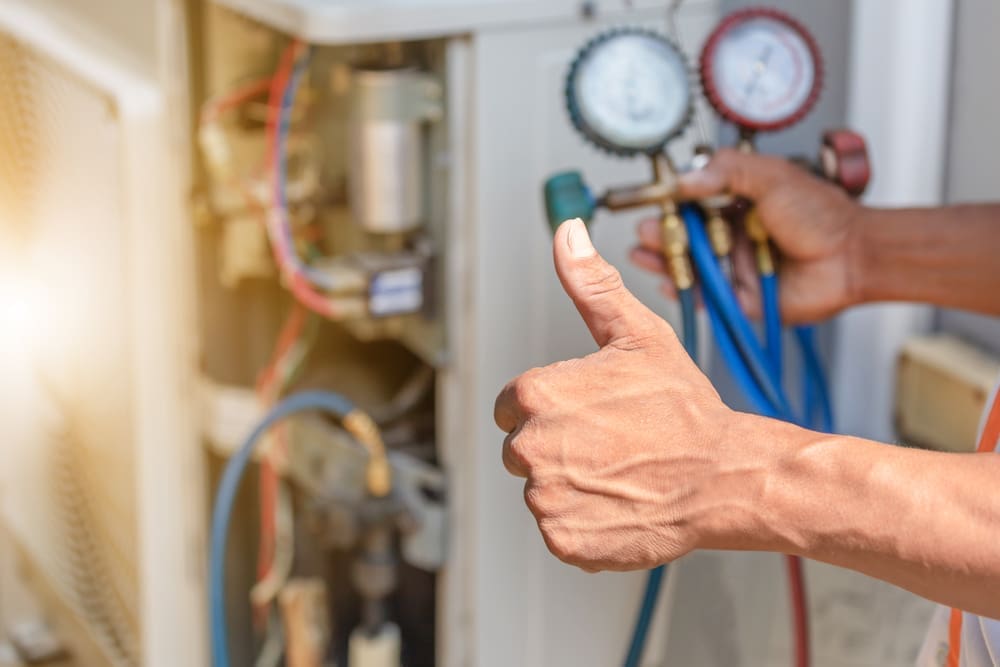 Reliable HVAC Installation Services
We understand that installing a new HVAC unit is stressful and overwhelming. You have so many brands and types to choose from. If this is your first time installing an HVAC system, you have our expert knowledge to ensure you get the right one. Whether you need a residential or commercial HVAC installation, you can count on Global Cooling to handle it!
What To Consider When Installing an HVAC System 
There are many factors to consider when you install a new HVAC unit in Clermont. It is going to be with you for over 10 years, and it can be a costly investment, so it is important to consider all aspects of installing a heating or cooling system. The right HVAC system installation with keeping your home comfortable through summer and winter without using too much energy. To achieve this balance, you need to consider the type, size, and brand of HVAC installation you need.
Type of HVAC Installation
The first thing to consider is the type of HVAC installation your home or business needs. Do you want an HVAC system with heating and cooling capabilities? Should it be powered with electricity, gas, or oil? Do you have ductwork running through the building?
Each system has unique benefits to offer your home or business. It all depends on your needs. At Global Cooling, we offer heating and cooling installation services for all types of systems in Clermont, FL:
Central Air Conditioning

Ductless Mini-Split Air Conditioning 

Heat Pumps

Furnaces
Size of the HVAC Installation
One of the most important aspects of choosing an HVAC system is the size of the unit. Of course, a house needs a smaller HVAC system than a large commercial building. Larger HVAC systems have a higher power output to distribute warm or cool air throughout a larger space. Getting the wrong-sized HVAC can be a costly mistake.
An oversized HVAC system will use more energy and take up more space in your building. On the other hand, an undersized HVAC system will also use more energy as it struggles to maintain a consistent temperature. Either way, the wrong HVAC system will cost you a fortune in utility bills and influence your indoor air quality. How do we determine the right-sized HVAC system?
Our technicians take a number of factors into consideration before recommending the right HVAC system. While it mostly depends on the square footage of the building, it also depends on the number of windows providing sunlight, the climate where you live, and the insulation of the building. 
Buildings with many windows will be warmer than those with fewer windows since it allows more sunlight. This makes the building hotter, so you may require a larger HVAC system to compensate for this. The same applies to buildings in a warmer climate. Additionally, a building with poor insulation may need a larger HVAC system to keep the indoor temperature constant. 
Brand of HVAC System Installation
There are various brands that supply HVAC systems. These brands vary in price and energy efficiency. We can help you choose the right HVAC system that fits your budget and energy efficiency requirements. That is why an expert opinion is necessary when choosing a heating or cooling system. Our HVAC technicians know the different brands and what they can offer you.
The Best Residential and Commercial HVAC Installations in Clermont, FL
As you can see, choosing the right HVAC system is more complicated than it seems. Global Cooling has a team of experts ready to guide you through the process of installing your new HVAC system. 
You can count on us for honest and trustworthy advice. We'll keep your home's needs and budget in mind when helping you find a new system. If you're worried about up-front costs, ask us about our financing options for customers with approved credit. Our team is ready to take the stress out of HVAC installation in Clermont, FL.