Emergency AC
Happy Today, Or You Don't Pay!

Emergency Air Conditioning in Clermont, FL
Florida's summers are humid and harsh. Warm nights make it hard to sleep. Your summer days are often spent melting away in Florida's humidity. You rely on your AC unit to keep your home comfortable during these scorching hot days. Without an AC, summer may be unbearable. However, you may experience emergency air conditioning issues that prevent you from using your cooling system in Clermont, FL.
Often, your AC unit will break down on the hottest day of summer because that's when it works the hardest. This is an inconvenient time to be without an AC unit, but emergencies happen unexpectedly. If you can't go a day without your AC unit, contact Global Cooling for reliable emergency AC repairs. Our team of skilled technicians will come to your rescue and repair your AC unit as soon as possible.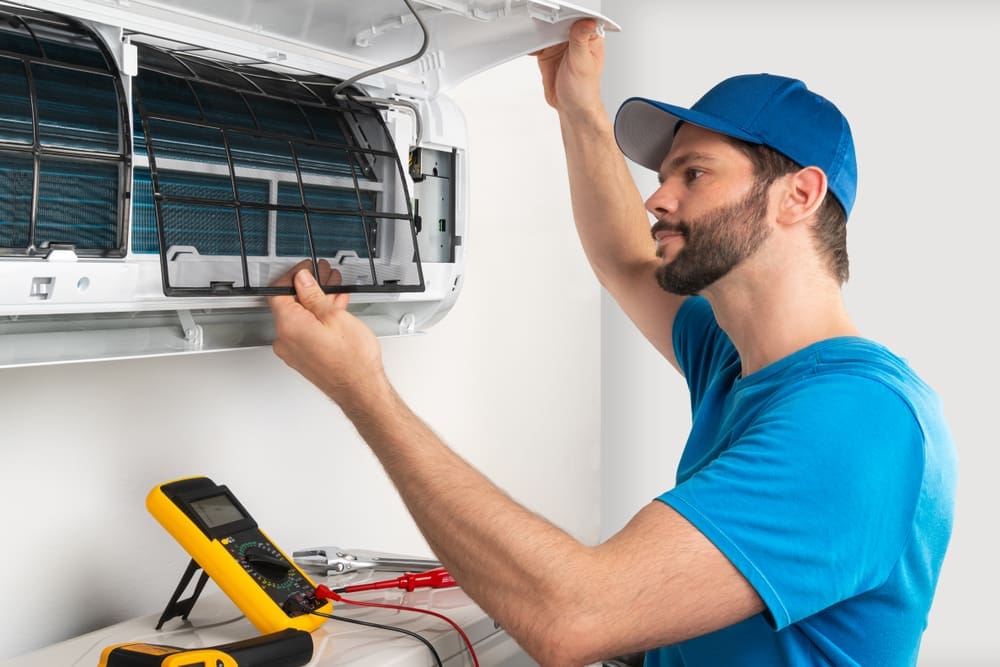 What Is an Emergency Air Conditioning Repair Service?
Some repairs can be delayed if a contractor can't get to your home right away. AC problems such as a breaker that trips occasionally, or uneven cooling can wait a day or two for repairs. However, some problems prevent you from using your AC unit and require emergency AC repairs to prevent further damage. Here are some issues that warrant a call to a Clermont emergency air conditioning company like Global Cooling. 
Power Supply Issues
Of course, if your AC won't turn on or off, you can't continue using it. While this may be a problem with your thermostat, it may also be something more technical that requires an expert opinion. If your thermostat is in working order, our technicians will come to your home as soon as possible to inspect your AC unit. 
AC Blows Warm Air 
It is no good to have an AC unit that blows out warm air, especially on the hottest day of summer. We recommend that you turn your AC off until one of our technicians can assess the damage and provide a solution. Your AC unit may only need a refrigerant refill. If this is the case, we will inspect your AC unit to discover why your refrigerant is depleted.
Loud, Grinding Noises 
AC units are relatively silent, so when you hear a loud grinding noise, you know something is wrong. The loud noise may be due to loose components in the system. Continuous use may damage your AC unit beyond repair. We recommend you call for emergency air conditioning repair as soon as possible. We will ensure that your AC unit runs smoothly and silently.
AC Unit Is Leaking
Your AC unit collects moisture as it cools the warm air in your home. The system has a drain pan to collect this excess water. However, some drain pans become rusted or damaged over time, allowing the water to leak out of the system. This is dangerous for your AC unit and those in your house. The water could damage your AC system permanently. Excess water is also a hazard if it comes into contact with an electrical current. Do not use your AC unit if water leaks out of the system. Call Global Cooling for emergency air conditioning repairs without delay. 
Foul Odors
If your AC unit releases a foul odor, it could be due to dirty ducts or air vents. While this may not seem serious, the foul odor may be unpleasant to live with. Additionally, if you smell a burning odor from your AC unit, you should switch your unit off and call us for emergency AC repair immediately. Our technicians will ensure that the unpleasant odors disappear so that you can use your AC unit comfortably.
You May Need a Replacement
If your AC unit is over 10 years old and has suddenly stopped working, you may need a new AC unit altogether. However, we will try every other avenue to repair your AC before recommending a replacement. If the damage is too severe, a replacement may be more cost-effective. You can trust us to provide the best solution for your home and budget.
Fast and Reliable Air Conditioning Repairs in Clermont, FL
Here at Global Cooling in Clermont, FL, we take emergency AC service very seriously. We want your home to be comfortable all the time. Our technicians will come to your home as soon as possible to find a solution to your faulty AC unit. Your satisfaction is our primary goal with every service we provide. We're a BBB-accredited company with an A+ rating, so you can rest assured that we'll provide top quality service for your emergency air conditioning needs.
For emergency air conditioning services you can count on, call Global Cooling at (352) 269-8191 or contact us online to schedule an appointment in Clermont, FL.