HVAC Tune-Up in Clermont, FL
Trustworthy, On-Time, & Worry-Free!

HVAC Tune-Up in Clermont, FL
Here in Florida, a functional air conditioner isn't a luxury, but a necessity—and when these all-important systems stop working on hot days, it's no fun. While it is impossible to prevent every cooling issue, regular maintenance does much to lessen the risk. When our technicians come to your home or business to provide HVAC services in Clermont, FL, we'll do what it takes to solve existing problems and keep new ones from appearing. 
At Global Cooling, we're here to solve all your heating and cooling problems. Call or click now to schedule an air conditioning tune-up.
The Benefits of Regular HVAC Maintenance
Regular upkeep can keep your system running smoothly throughout its expected lifespan. Here, we'll outline the numerous benefits of AC maintenance in Clermont.
Increased indoor comfort.

If your HVAC system is well maintained and regularly tuned up, your family will naturally stay more comfortable. 

Energy efficiency.

Are you tired of high utility bills? With regular HVAC tune-ups, your cooling system will run more efficiently, and you'll save money every month. Book your tune-up with us today!

Longevity.

Once your air conditioner is working as it should, it may last for decades. When heating and cooling systems are properly maintained, they last much longer than those that do not get regular tune-ups.

Fewer repairs.

When property owners schedule frequent HVAC services in Clermont, FL, they can expect to need fewer repairs.
Not only can regular tune-ups save you time and money, but they will also create a more comfortable environment. We service and maintain all major HVAC brands, and we invite you to call now for an appointment.
W

hat Comes With a Global Cooling Tune-Up?
Scheduling biannual tune-ups is a cost-effective effort that offers a significant return on investment. Preventive AC maintenance prevents sudden breakdowns while improving a system's efficiency and lengthening its lifespan. Here's what you'll get when you schedule an air conditioning tune-up with us.
Clean coils.

Our condenser coil cleaning services increase efficiency, conserve energy, and reduce wear and tear.

The right coolant level.

We'll check the system's coolant level, adding more if needed. Regular coolant checks help maintain optimal function.

Lubrication.

We will lubricate the system's moving parts, reducing friction and wear that decreases system efficiency.

Calibration.

Our technicians will calibrate and adjust your thermostat to ensure that it works properly.

A ductwork inspection.

We'll evaluate the entire duct system to find and fix leaks.

Adjustments.

Next, we'll tighten and inspect all electrical connections.

A motor inspection.

Finally, we'll evaluate the performance of the blower motor and its moving parts.
Through Global Cooling's preventive maintenance plan, you can keep your HVAC system in top condition and get all these benefits. Call now or click here to schedule HVAC services in Clermont, FL.
Why Choose Our Company?
At Global Cooling, we pride ourselves on the world-class service we provide. We promise to:
Be prompt.

We know your time is valuable, and we pledge to provide on-time, efficient, and professional service.

Bring our experience to the table.

When you hire us, our certified, licensed, and experienced technicians bring all their skills to the work they do. Furthermore, you'll get the benefit of all the continuing education our techs receive.

Be helpful.

We don't push certain brands and products—we want to help you find the right air conditioning replacement, maintenance, and air conditioner installation solutions for your property, budget, and needs. We're always here to answer your air conditioner repair and maintenance questions!

Offer convenience.

We will always work with your schedule and get your home or business back to its optimal comfort level. We even offer nighttime, holiday, and weekend AC services, so call anytime.

Be friendly.

We love our commercial and residential air conditioning maintenance and repair customers throughout Clermont and the surrounding area. We treat every property with the utmost respect and care, and you'll see that care from the minute we arrive until the work is done.
At Global Cooling, we believe in honesty, integrity, and transparency in everything we do. Whether you need air conditioning replacement, a one-time maintenance visit, air conditioning installation, or you want to schedule regular AC services, we're here to help. Call or click today!
Contact Us for Air Conditioning Maintenance and Repairs
When local home and business owners need help maintaining their heating and cooling systems and scheduling air conditioner repair, they turn to our team. Shouldn't you count on us, too? 
During these trying times, it's more important than ever to have a comfortable and welcoming indoor environment. Thankfully, we make it easy to get the AC maintenance services you need at prices you can afford. Request additional information online or call now for HVAC services in Clermont, FL.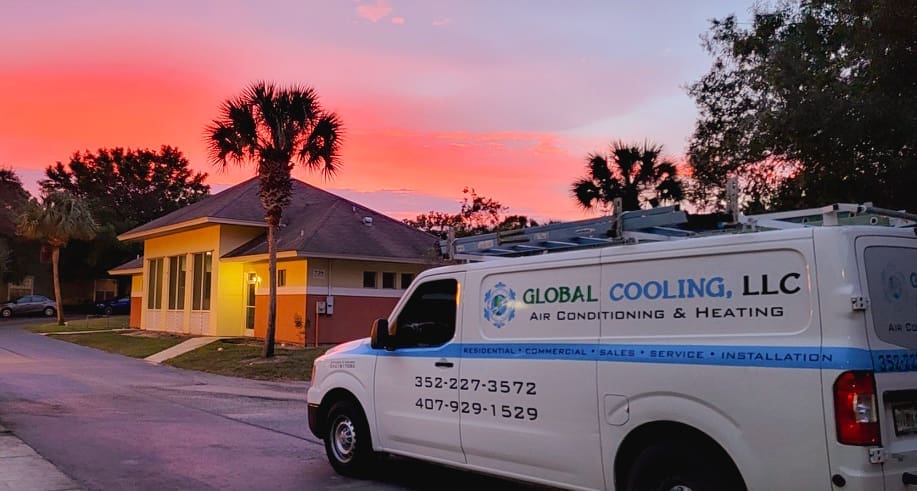 "Justin was the tech that came to our house to fix our AC system. He was courteous and knowledgable of our system and gave us some possible scenarios for repair options based on the symptoms we had. I ..." - Jean P.
"Overall Doug did an excellent job. He was very knowledgeable and courteous. He went out of his way to point our options and the most cost-effective way to accomplish the needed repairs. This is a ..." - Michael D.
"They came to fix my AC within a couple of hours of my call for help and were fantastic! The tech was extremely knowledgeable and thorough and friendly. I will use this company from now on!!" - Susan W.
"Kind and HONEST technicians! Doug, who explained the issues with our 15-year old unit and what our options are, was not pushy at all. We believe he gave us a great deal on this project (installation ..." - Maria B.
"These people are true professionals and their prices are VERY reasonable. They always fix everything and go above and beyond without incurring additional costs. I always use this company now." - Debra O.
Contact Us 24/7
Emergency Services Available

Why Choose Us?
How We Guarantee Your Satisfaction:

Reliable & Respectful Team
You can trust our experienced, background-checked and professionally trained technicians.
Up-Front Pricing
With our straightforward pricing guide, you can choose your level of service. Financing options available.
In-House Guarantees
Your satisfaction is our priority, on top of manufacturer warranties.