Indoor Air Quality
Happy Today, Or You Don't Pay!

Indoor Air Quality Service in Clermont, Florida
Technicians with Over 50 Years of Combined Experience
Because we shut the door and keep the windows closed, for the most part, the air within our homes must be cleaner than the air outside, right? Wrong. According to the Environmental Protection Agency (EPA), the air within our homes is often five times more polluted than the air outside. Sealing properties to improve energy efficiency just creates a breeding ground for contaminants and pollutants that cause allergies and respiratory problems. Instead of suffering through the sneezing and coughing, call our Clermont indoor air quality specialists at Global Cooling. We can install a number of solutions to get you breathing cleaner, fresher air in no time.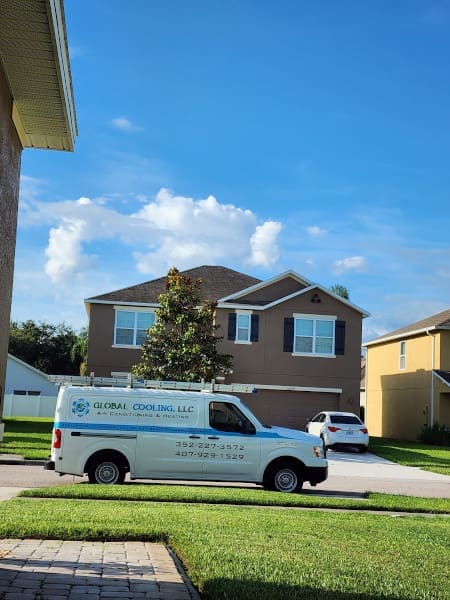 Air Filter Replacements
Your air filter has an extremely important job; it prevents pollutants from circulating through your air as you run your AC unit. However, this is not its only function. In addition to ensuring that your air is clean and free of contaminants, it also helps your system function efficiently. When the filter is clogged, your system will work harder to function at peak capacity. This will cause your energy bills to increase dramatically. A clogged filter will also put more strain on your AC system's fan and motor, which will cause you to need repairs or maintenance sooner. To help your system run efficiently and to rid your home's indoor air of common contaminants, call our Clermont air quality specialists to perform an air filter replacement.
UV Lights
While air filters are effective at reducing any of the larger particles that can infiltrate your ductwork and AC unit, they aren't as successful at capturing some of the smaller particles that contribute to poor indoor air quality, significantly affect your health, and can trigger respiratory problems or allergy symptoms. One way to reduce the presence of these microorganisms is to install ultraviolet germicidal technology (UV lights).
Commonly used as disinfectants in hospitals and other health clinics, these devices are capable of eliminating the following pollutants from your indoor air:
Mold
Mildew
Fungus
Bacteria
Viruses
Cigarette smoke
Foul odors
Our Clermont air quality experts can install either a single or dual UV light within your ductwork or near your evaporator coil. As air flows through your ductwork, your UV light will continually emit a germicidal light that is capable of penetrating the DNA of common microorganisms and preventing their reproduction cycles.
These systems are also safer than other forms of air purification because they do not emit any toxic ozone.
Get the Five Star Indoor Air Quality Service You Deserve
When you hire Global Cooling, you'll receive nothing but honesty and integrity. Using our straightforward pricing guide, you'll be able to choose your level of service and know the exact price you'll pay from the start. Every member of our team must pass thorough background checks and drug tests. If you're not satisfied with your service for any reason, we'll give you your money back.
Look into our maintenance plan to stay comfortable year-round. Call (352) 269-8191 for more information..