Clermont AC Maintenance
Trustworthy, On-Time & Worry-Free!

AC Maintenance in Clermont, Florida
You rely on your air conditioner to keep your Clermont, FL, home cool and comfortable. However, no matter what kind of air conditioner you have, you can't expect it to run smoothly without annual AC maintenance.
Regular AC maintenance helps keep your system in top condition and supports it through its full lifespan. Annual preventative maintenance can also ensure energy-efficient and reliable performance.
At Global Cooling, we offer trusted air conditioning maintenance appointments in Clermont, FL, to keep your system running smoothly when you need it.
Why Is Air Conditioning Maintenance Important?
Air conditioning maintenance is an essential part of keeping your home cool and comfortable. Your air conditioner is a big investment, and preventative maintenance is the best way to support your AC system.
Without HVAC maintenance, you could experience issues such as the following:
More frequent repairs

Expensive home cooling costs

Shortened equipment lifespan

A decline in indoor air quality

Increased strain on your AC system
Neglecting your air conditioning maintenance means you could end up with inflated energy bills due to an inefficient system. You could also experience unexpected failures or a need for a preemptive AC replacement.
To maintain AC performance, save yourself money, and gain peace of mind, call Global Cooling.
Our Professional AC Maintenance Service
At Global Cooling, our professional air conditioning maintenance service will keep your system in top shape. AC maintenance means your unit will work more reliably and efficiently and break down less frequently.
During your AC maintenance appointment, one of our trusted HVAC technicians will:
Thoroughly inspect your entire AC system

Clean your condenser coils

Check your coolant levels

Inspect your blower motor

Check for signs of wear and tear

Inspect your thermostat

Lubricate moving parts

Clean and flush your drain system

Sanitize your evaporator coils

Replace your air filter if needed
To maintain AC performance, you need annual tune-ups. Your appointment will bring any issues to light, and our technicians will address small concerns right away to bring your system back to peak performance.
If there are larger problems with your unit, we will schedule an appointment to make repairs right away before the issue gets worse. Fixing small problems at once keeps you from losing your AC at the worst time, like the middle of a heatwave.
Additionally, your air conditioning maintenance appointment will help preserve your indoor air quality.
During your appointment, we'll thoroughly clean inside your unit, sanitize your evaporator coils, and replace your air filters if needed. This will keep your system from spreading harmful pollutants around your home, which will keep your air clean and healthy.
Call Global Cooling for Expert AC Maintenance
If you need AC maintenance in Clermont, FL, you've come to the right place. At Global Cooling, we offer trusted and timely AC maintenance appointments to keep your unit in top condition.
We will arrive for your appointment in full uniforms and with a clearly marked vehicle stocked full of everything we need to keep your air conditioner in top condition. Go with the HVAC maintenance experts in Clermont, FL, and call us today to schedule your stress-free appointment!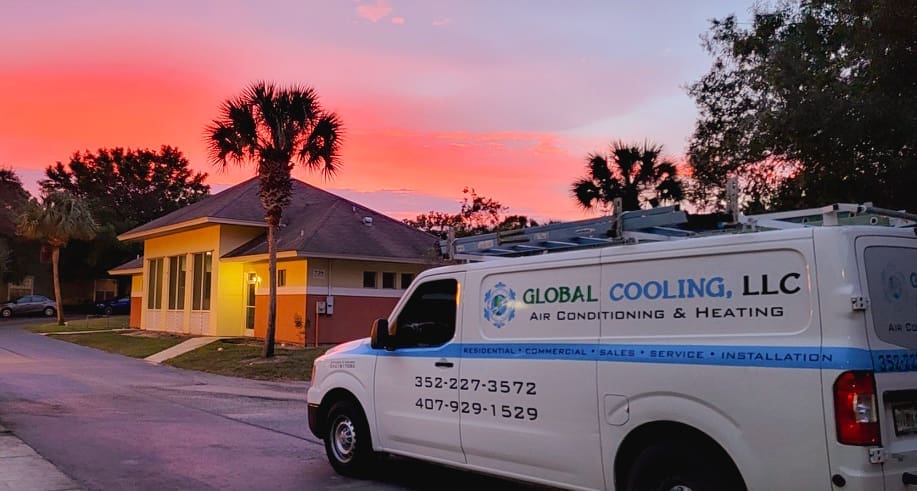 "Justin was the tech that came to our house to fix our AC system. He was courteous and knowledgable of our system and gave us some possible scenarios for repair options based on the symptoms we had. I ..." - Jean P.
"Overall Doug did an excellent job. He was very knowledgeable and courteous. He went out of his way to point our options and the most cost-effective way to accomplish the needed repairs. This is a ..." - Michael D.
"They came to fix my AC within a couple of hours of my call for help and were fantastic! The tech was extremely knowledgeable and thorough and friendly. I will use this company from now on!!" - Susan W.
"Kind and HONEST technicians! Doug, who explained the issues with our 15-year old unit and what our options are, was not pushy at all. We believe he gave us a great deal on this project (installation ..." - Maria B.
"These people are true professionals and their prices are VERY reasonable. They always fix everything and go above and beyond without incurring additional costs. I always use this company now." - Debra O.
Contact Us 24/7
Emergency Services Available

Why Choose Us?
How We Guarantee Your Satisfaction:

Reliable & Respectful Team
You can trust our experienced, background-checked and professionally trained technicians.
Up-Front Pricing
With our straightforward pricing guide, you can choose your level of service. Financing options available.
In-House Guarantees
Your satisfaction is our priority, on top of manufacturer warranties.