HVAC Replacement Services in Clermont, FL
Trustworthy, On-Time, & Worry-Free!

HVAC Replacement
Do you need an HVAC replacement? If your HVAC unit has been serving you for some time now, it may need an HVAC replacement. To ensure that you and your family always have air conditioning, talk to one of our specialists at Global Cooling. We understand the fears involved in a new HVAC installation; there are costs, energy usage, and the amount of space available in your house to consider. It is a big decision, but it is also a great investment worth making. 
Global Cooling is a family-owned business which means that we understand how much your family means to you. It is our priority to ensure safe HVAC installations. All of our staff are well-trained and equipped to assist you!
The Right HVAC Contractor for the Right HVAC Replacement
One of the most important decisions you'll make regarding an HVAC replacement is choosing the right contractor. We guarantee that we are that contractor! We are licensed and offer to finance your HVAC replacement. Once someone from our team gets to your home, they will assess your property and take measurements. 
Global Cooling HVAC Services
Global Cooling is proud to offer a wide range of HVAC services. From air conditioner replacements to heater replacements, we do it all! Enjoy summer and winter with our smart HVAC services.
We may dread summer because it can be uncomfortable when our homes trap heat throughout the day. This just makes our evenings warm and stuffy. Working in a sweltering office all day is even worse. It's hard to be productive when it feels as if your energy is seeping out of you as you sweat.
On hot summer days like these, it's important to make sure our homes and businesses stay cool. Thankfully, Global Cooling has everything it takes to keep you cool. AC replacements and installations have never been easier. By calling us for a commercial or residential AC replacement, you invest in comfortable summer days for the people you care about. An AC replacement is not a luxury; it's a necessity.
If your AC unit is too old and just can't be repaired, it is time for an AC replacement. Contact Global Cooling for a suitable AC replacement for your home. Our experts will give you a thorough rundown of the options available. 
Heater Replacement
Harsh winters can be horrible to endure. Sitting in a cold office for hours on end can make you feel sick and even give you a stiff body. Temperatures can drop drastically in winter; this can make us feel sluggish. It's difficult to do anything when all you want to do is stay wrapped in a blanket all day. Not to mention all the layers of clothing we have to wear to keep warm. 
If you notice an increase in your electricity bills, your heater might be having trouble providing heat to your home. As a result, it is working harder to maintain the temperature you desire. In addition, if you notice a burning smell or loud, strange noises, your heater is definitely not safe to continue using. Call us immediately as this can be a hazard to your home and family. 
If your heater has given up on you completely it is definitely time to schedule a heater replacement. Global Cooling has trained employees to discuss the best heater installation options for your home or business. Get your quotation today and keep your family snug and comfortable.
Before jumping into a replacement too hastily, consider the costs carefully. There are so many HVAC options available, and they all have widely different prices. While you may want the biggest HVAC system, it may be unnecessarily bulky and expensive. 
When one of our HVAC experts arrives at your property, they will perform a series of assessments to provide a detailed analysis and pricing for the most suitable HVAC system for your home. Certain aspects of your property will determine the tonnage. 
Here are some of the things we will assess to offer the right tonnage based on the size of your house.
Square Footage
To calculate the tonnage, you would need the square footage of your home. Once you find the tonnage, you will know what size HVAC unit you need. 
Geographic Region
The area that you live in has its own unique climate. Some areas experience hotter summers than others. 
Insulation
If your house is well insulated, you may not need a strong HVAC unit. A well-insulated building won't let the temperature change so easily. 
Sunlight and Windows 
Your house may have many windows and get lots of sunshine. More windows make your home hotter during the day, whereas homes without windows tend to be colder. 
Contact Us Today for Your HVAC Replacement
Now that you know what is involved in replacing your HVAC unit, you can make a calculated decision regarding the type of HVAC unit you choose. Don't be afraid to ask us questions. Your total satisfaction is what matters to us, no matter how long it takes. 
To learn more about our HVAC services, call Global Cooling at (352) 227-3572 or visit our website to contact a
HVAC Maintenance
As with everything in life, when you take care of something, it takes care of you in return. HVAC systems are not exempt from this truth. HVAC units are pricey and have the potential to serve you for up to 12 years. Having said that, it would only make sense to protect your investment with regular HVAC maintenance.
Your HVAC unit gets you through smoldering summers and frigid winters. To live without it would be a major inconvenience to you and the people you care about. 
The Importance of HVAC Maintenance
Longer Lifespan
When your HVAC unit works as it should, without the hurdles of clogged-up dirt, it won't undergo severe wear and tear. Your HVAC unit will last longer when you keep up with your regular maintenance schedules. A poorly-maintained HVAC unit will need to be replaced long before it should.
Lower Utility Bills
An HVAC unit that is not operating at peak condition will work harder and use more energy to supply air at the right temperature. It may be hard to notice any fault with your HVAC unit at first glance. However, if there is a higher electricity bill at the end of the month, you should call Global Cooling to check it out and fix the problem. However, regular maintenance will prevent the need for these types of repairs.
Fewer Emergency Repairs
Missing your annual HVAC tune-ups will lead to more emergency repairs. Well-maintained units are less likely to stop working during months of frequent use. Each of these repairs costs you more than the annual tune-up. In addition to the call-out fee, you will pay more to replace parts that break from severe wear and tear. 
Better Air Quality
A well-maintained HVAC unit provides healthy air quality. HVAC units with cleaner filters and coils release cleaner air for the whole house. If you skip regular HVAC tune-ups, your unit could be a breeding ground for mold and bacteria. If you have a respiratory condition, these dirty filters will only make it worse.
Call the best HVAC company at (352) 227-3572 or schedule an appointment online.
What is an HVAC Tune-up?
These are often just clean-ups, but they also identify problems before they worsen. All HVAC units experience wear and tear. Take care of your HVAC unit by scheduling annual HVAC tune-ups. HVAC maintenance will extend the life of your HVAC unit and even prevent an HVAC replacement before it's needed. Tune-ups are included in air conditioning maintenance and furnace maintenance. If you have a heat pump that provides cooling and heating within one unit, you should schedule tune-ups twice a year. These tune-ups should be done just before summer and just before winter when your HVAC is used the most.  
The HVAC Maintenance Checklist
Before you call your HVAC company, you should know what will be checked during your regular maintenance schedule. These checks are applicable to air conditioner maintenance, as well as furnace maintenance. Here is a general HVAC Maintenance Checklist. 
Condenser or Heat Pump Cleaning
Air conditioners and heat pumps that are outside will get extremely dirty. This will cause the system to work harder to maintain the air temperature you want in your home. Cleaning condensers and heat pumps will decrease the risk of damage to the components. You should also ensure that the unit is level, or refrigerants and coolants won't be able to work. This can put a strain on your condenser and compressor. 
Check the Filter
Another way to extend your HVAC unit's life is to ensure that air can flow easily. An air filter will collect dust and mold so that your HVAC unit does not clog up. This air filter should be checked monthly and changed every three months. If you have pets, you may need to do this more often. The HVAC will work harder and use more electricity if the filters are blocked.
Clean the Drain Lines
An HVAC unit takes moisture out of the air, which then accumulates in the drain lines of the unit and is transferred outside. Eventually, the drain lines can become blocked by the dirt and dust that stick to the moistened drain lines.
Keeping the Outdoor Unit Clean and Well-maintained
The part of your HVAC system that stays outside is subject to weather and other external elements. Plants, dirt, and debris can settle on the unit and block the vents that release the air from indoors. Therefore, it is important to keep the outside area where your HVAC unit is located neat and clean. Remove anything that could potentially cause blockage. 
For The Best HVAC Maintenance, Contact Global Cooling
At Global Cooling, we offer the most comprehensive HVAC check-ups in town! Our expert team will know exactly how your HVAC unit works and what it needs to stay in tip-top shape. Don't get caught in a sticky situation where your HVAC unit gives up on you at a time when you need it most. Keep up with your regular tune-ups and household maintenance to get the best results from your precious HVAC unit. We know how much it means to you!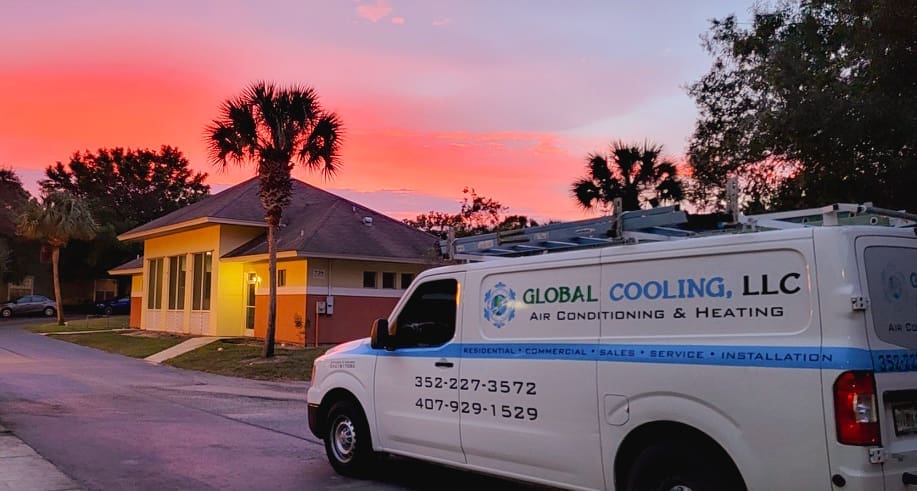 "Justin was the tech that came to our house to fix our AC system. He was courteous and knowledgable of our system and gave us some possible scenarios for repair options based on the symptoms we had. I ..." - Jean P.
"Overall Doug did an excellent job. He was very knowledgeable and courteous. He went out of his way to point our options and the most cost-effective way to accomplish the needed repairs. This is a ..." - Michael D.
"They came to fix my AC within a couple of hours of my call for help and were fantastic! The tech was extremely knowledgeable and thorough and friendly. I will use this company from now on!!" - Susan W.
"Kind and HONEST technicians! Doug, who explained the issues with our 15-year old unit and what our options are, was not pushy at all. We believe he gave us a great deal on this project (installation ..." - Maria B.
"These people are true professionals and their prices are VERY reasonable. They always fix everything and go above and beyond without incurring additional costs. I always use this company now." - Debra O.
Contact Us 24/7
Emergency Services Available

Why Choose Us?
How We Guarantee Your Satisfaction:

Reliable & Respectful Team
You can trust our experienced, background-checked and professionally trained technicians.
Up-Front Pricing
With our straightforward pricing guide, you can choose your level of service. Financing options available.
In-House Guarantees
Your satisfaction is our priority, on top of manufacturer warranties.